April 28, 2022
News Story Content
The Ohio State University College of Pharmacy held its annual Alumni Awards ceremony on April 1, 2022, at the Grand Event Center in Columbus, Ohio, celebrating both 2021 and 2020 stand-out pharmacy Buckeyes.
"I have been blown away by the commitment our faculty, staff, students, alumni and friends have shown to their profession and to the college during the past few years," said Dean Henry Mann, PharmD, FCCP, FCCM, FASHP, at the ceremony. "COVID-19 has sparked us to adapt in ways that none of us were expecting to, and pharmacists have demonstrated to our communities something we've known all along – that we are vital members of the health care team."
 
2021 Alumni Award recipients included:
Benjamin R. Lopez, PharmD, MS, MHA, was awarded the Josephine Sitterle Failer Alumni Award.
Named in honor of Josephine Sitterle Failer, BS '39, a longtime benefactor who contributed service to the college for nearly five decades. The award recognizes an alumnus who has received a professional degree or completed post-graduate training from the College of Pharmacy within the past 10 years and has made an outstanding contribution to community or professional service.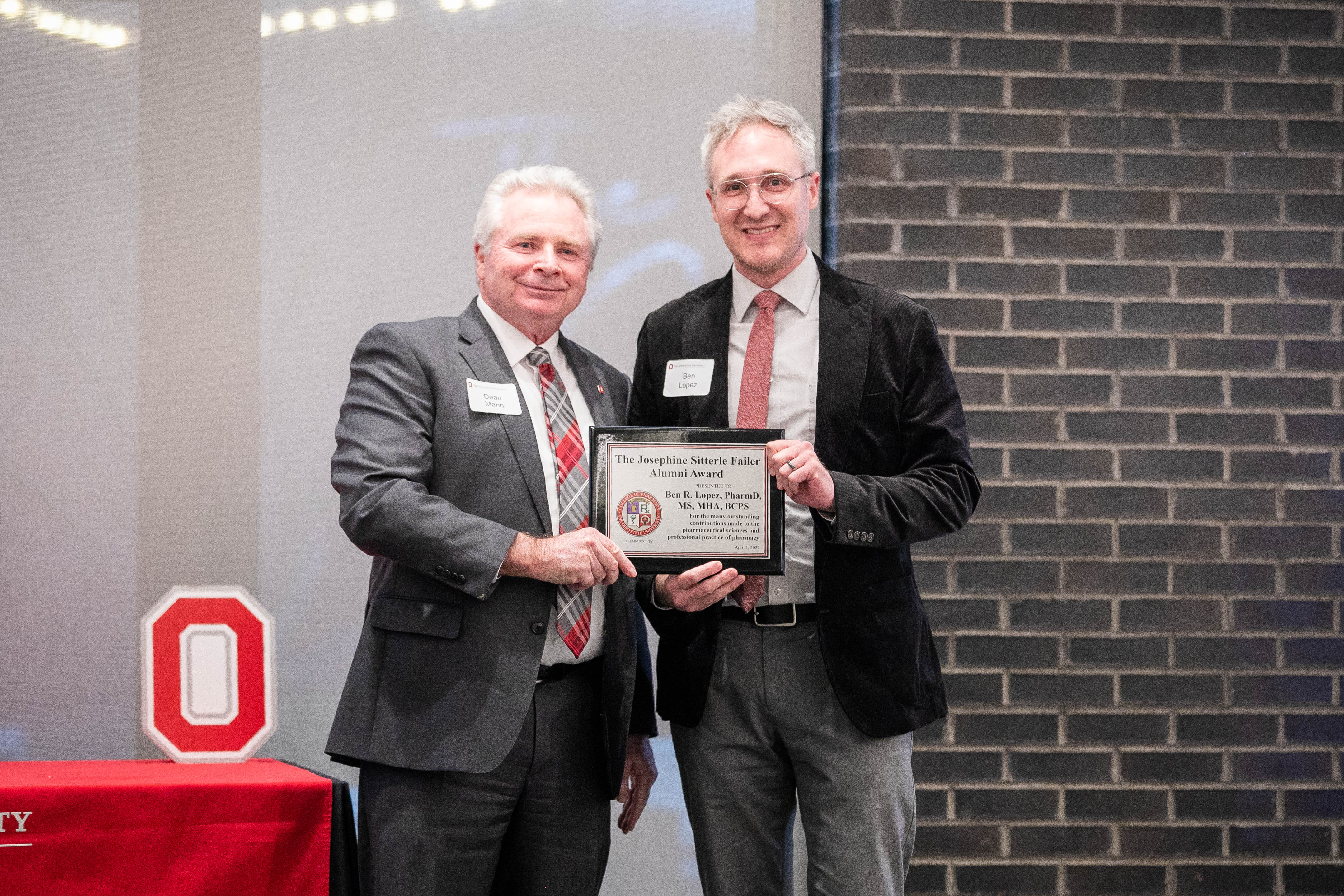 Dr. Lopez is the director of pharmacy operations at The Ohio State University Wexner Medical Center and is responsible for safe, accurate and efficient medication preparation and distribution across the pharmacy enterprise which supports a 1506-bed, seven-hospital health system with over 64,000 in-patient admissions and over 1.8 million outpatient visits per year.
Dr. Lopez earned his bachelor's degree and Doctor of Pharmacy degree from West Virginia University and a Master of Science in Health-System Pharmacy Administration and Master of Health Administration from Ohio State. His professional interests include pharmacy facility and workflow design, workload and productivity monitoring, use of automation and technology to improve medication use safety, controlled substances management and professional development for pharmacy technicians. Dr. Lopez serves as a member of ASHP and the Ohio Society of Health-System Pharmacists. He is an immediate past-president of the Central Ohio Society of Health-System Pharmacists, and the Ohio representative and treasurer for the Great Lakes Pharmacy Resident Conference.
Adeboye Adejare, PhD, was awarded The Jack L. Beal Post-Baccalaureate Award.
Named in honor of Jack L. Beal, PhD '52, professor emeritus of medicinal chemistry and pharmacognosy at the College of Pharmacy. The recipient of the Beal Award must have a post-baccalaureate degree from the College of Pharmacy and have contributed significantly to research and scholarship in the pharmaceutical sciences and/or contributed outstanding service to the professional practice of pharmacy.
Dr. Adejare is a professor of pharmaceutical sciences at the Philadelphia College of Pharmacy and a research professor of chemistry at the University of the Sciences in Philadelphia. His research is geared toward the discovery of novel compounds that can be used to probe mechanisms of and for treatment of neurodegeneration as observed in Alzheimer's disease and related disorders, anti-cancer drug discovery and pharmaceutical profiling.
Dr. Adejare's research is funded by several agencies, including NIH and several pharmaceutical companies. These efforts have resulted in over 50 publications, five patents and over 100 major meeting presentations. Several graduates from his group are employed in academia and the pharmaceutical industry. Dr. Adejare has served and currently serves on several national panels, including grant review panels for NIH, NSF, the National Academy of Science and the Alzheimer's Association. He is the editor-in-chief of Remington: The Science and Practice of Pharmacy and the editor of the book "Drug Discovery Approaches for the Treatment of Neurodegenerative Disorders: Alzheimer's Disease."
Dr. Adejare received his bachelor's and master's degrees in chemistry from the University of Iowa and a PhD in medicinal chemistry from Ohio State. He completed postdoctoral studies at NIH prior to beginning a career in academia.
Susan Marx Mashni, PharmD, BCPS, BSPharm, Max J. Peoples, RPh, BSPharm, Nicholas S. Ragaji, RPh, BSPharm and Erika M. Ragaji, BSPharm, were awarded The Distinguished Alumni Award.
Recipients must have a degree from the College of Pharmacy or completed post-graduate training; have made distinguished contributions in the fields of public health and public service; have performed outstanding activities in the interest of the college and its students; and have an outstanding record in the profession of pharmacy.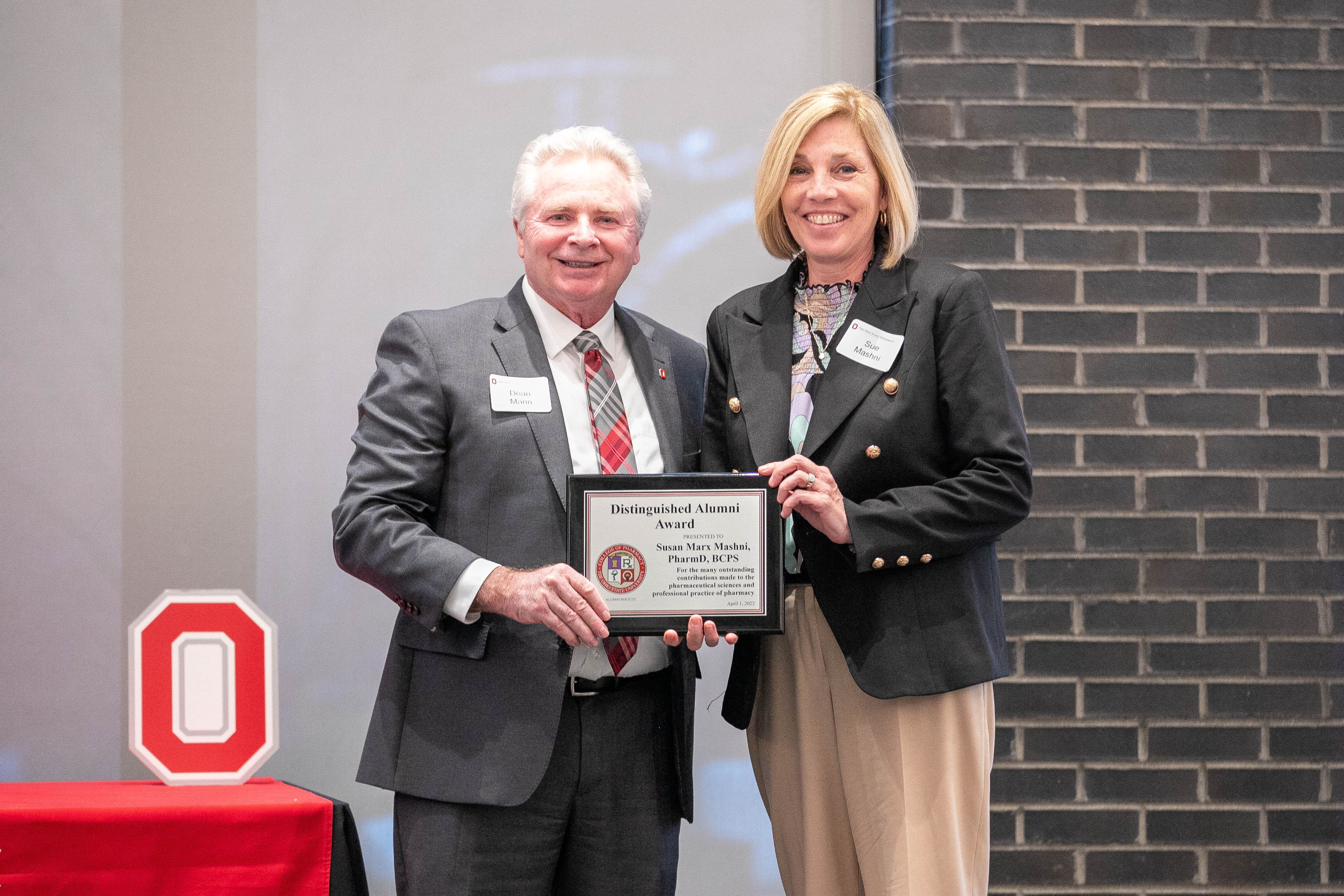 Dr. Mashni is the SVP/chief pharmacy officer for the Mount Sinai Health System in New York City. In this role, she oversees pharmacy practice across the eight Mount Sinai hospitals and the 340B program, as well as ambulatory, retail, clinic and specialty pharmacies at Mount Sinai. Dr. Mashni also serves as an associate professor at the Icahn School of Medicine, where she helps oversee pharmacy involvement in investigational drug research.
Prior to her current role, Dr. Mashni was the chief pharmacy officer of Mercy Health System headquartered in Ohio, overseeing pharmacy practice in 23 hospitals, over 25 retail pharmacies and ambulatory pharmacy practice sites. At Mercy Health System, Dr. Mashni's team saved over $50 million dollars in formulary cost savings and standardized over 400 order sets for use across the health system. Dr. Mashni attended the Ohio State College of Pharmacy for both her BS Pharm and PharmD degrees. She is on the advisory boards for the Long Island University College of Pharmacy and the University of Cincinnati College of Pharmacy and serves on the several national advisory boards including Amerisource Bergen and Epic Pharmacy Advisory Boards.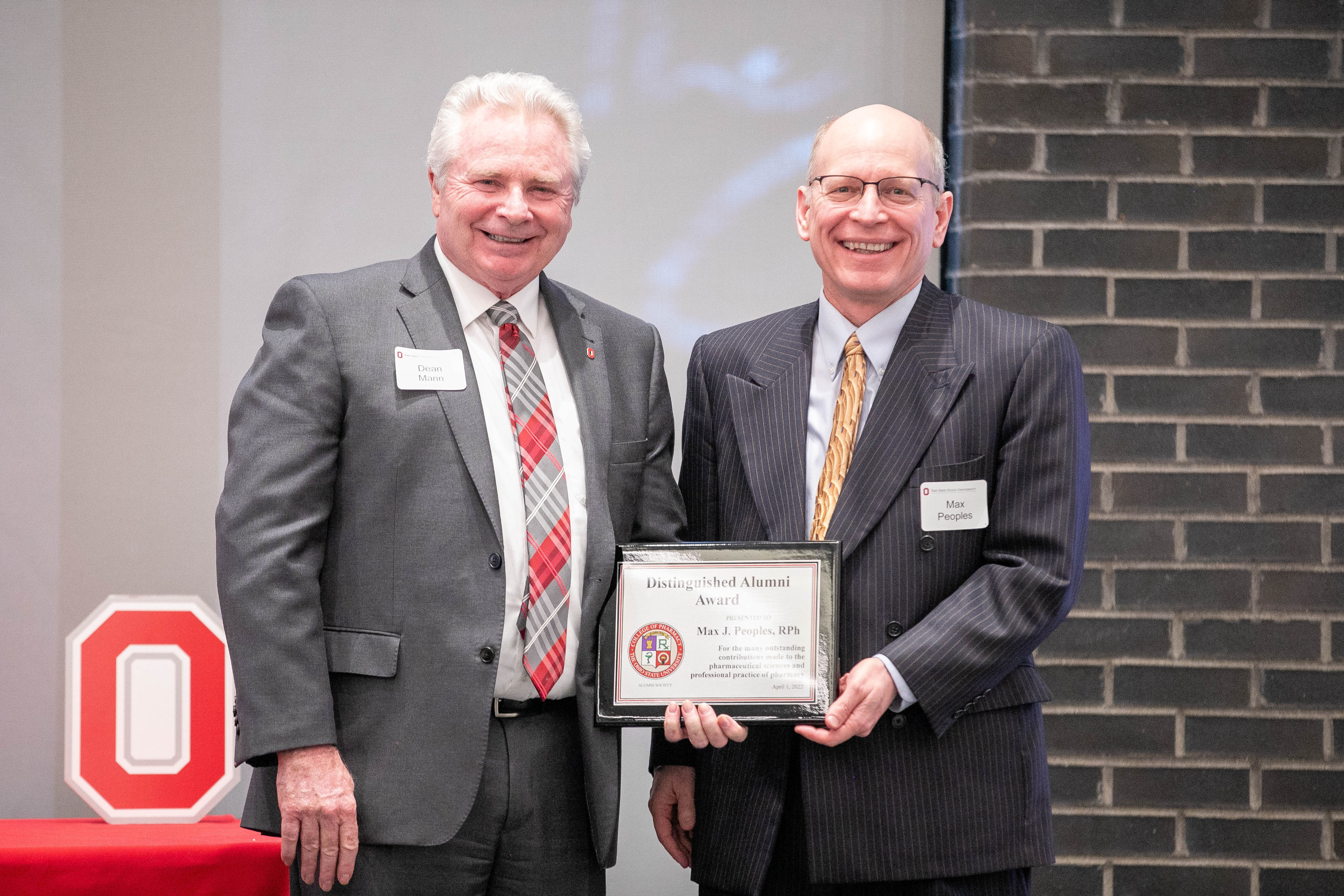 Peoples, a 1983 Ohio State graduate, is the owner of Uptown Pharmacy in Westerville, Ohio; Essentra Pharmacy in Marengo, Ohio; and founder of RxScan, a health care technology company. He purchased Uptown Pharmacy in 1985 and transformed it into a pharmacy that focuses only on health-related services.
In 1996, Peoples founded RxScan to commercialize the medication barcode scanning technology he developed for Uptown Pharmacy to verify that prescriptions were prepared, billed and documented correctly. He was awarded two patents covering this technology. In 1996, he participated in APhA's Project Impact: Hyperlipidemia. In 1997, he was the first Ohio pharmacist to provide flu vaccinations for his patients. In 1999, he started a Coumadin clinic with pharmacists managing its dosing at Uptown Pharmacy. In 2009, he started partnering with the college on offering a pharmacy residency site at Uptown Pharmacy. This year is their 12th resident. In 2017, he opened Essentra Pharmacy in Marengo, Ohio at the request of some in the community. He has served as president of Westerville non-profit organizations and as a co-founder of others. In 2020, he was the founding board chair of the Partnership for DSCSA Governance (PDG). PDG is in a public-private partnership with the FDA working on interoperable tracing and verification of prescription pharmaceuticals in the U.S. He currently serves on the Ohio State College of Pharmacy Dean's Corporate Council.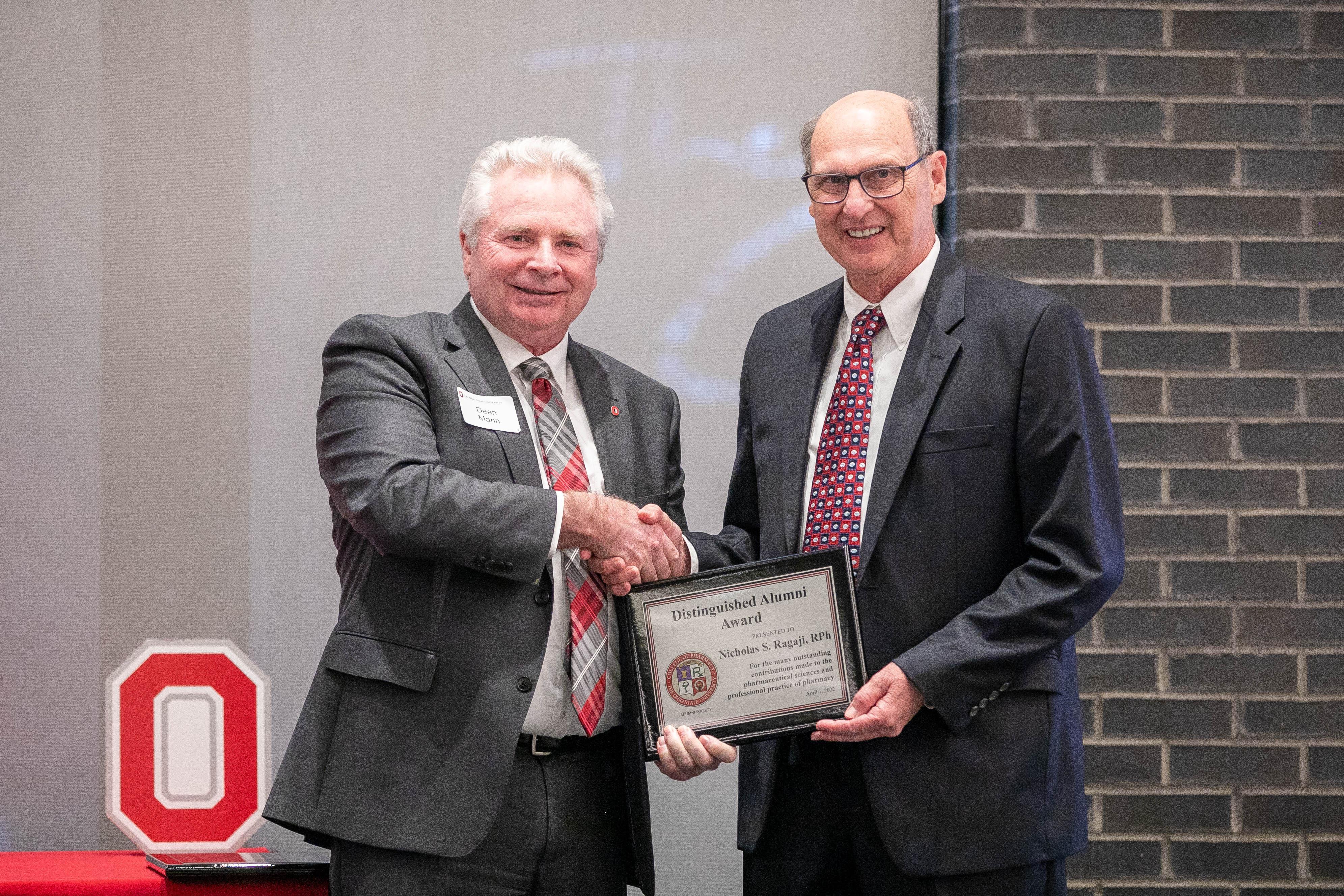 Nicholas Ragaji and his wife, Erika, owned and worked at Harrup's Pharmacy and Westside Pharmacy for 20 years. His sister and cousin also worked at the business. While in school, Nick interned in hospital and retail pharmacy and was elected as a student delegate to APhA. The Ragajis supported the Ohio internship program and mentored several interns over the course of their careers. They currently live in Columbus and are longtime Ohio State football and basketball ticket holders.
Erika Ragaji and her husband, Nick, owned and worked at Harrup's Pharmacy and Westside Pharmacy for 20 years. Prior to that, she worked for a chain pharmacy for 16 years in various locations on the west and southwest sides of Columbus. During her career, she served as president of the Academy of Pharmacy of Central Ohio. Erika had a lifelong passion for pharmacy, working at a chain pharmacy in Maryland the summer before college. She worked on the Appalachian Student Health Project in Princeton, WV in her last summer of college. While in school, Erika was involved with Kappa Epsilon Women's Pharmacy Fraternity, serving as the president her senior year. She was also a member of the student chapters of APhA and OPA.
Filiz Yucebay, PharmD, BCPS, BCOP, was awarded The Outstanding Community Engagement Award.
This award recognizes an alum from any training or academic program of the College of Pharmacy for outstanding accomplishments in the community. Recipients have been involved in outreach and engagement that includes collaboration with one or more community partners who may be public and/or private sector, local to global and external to the university. This work must have provided valuable learning experiences for students and/ or demonstrated impact that addresses an important need.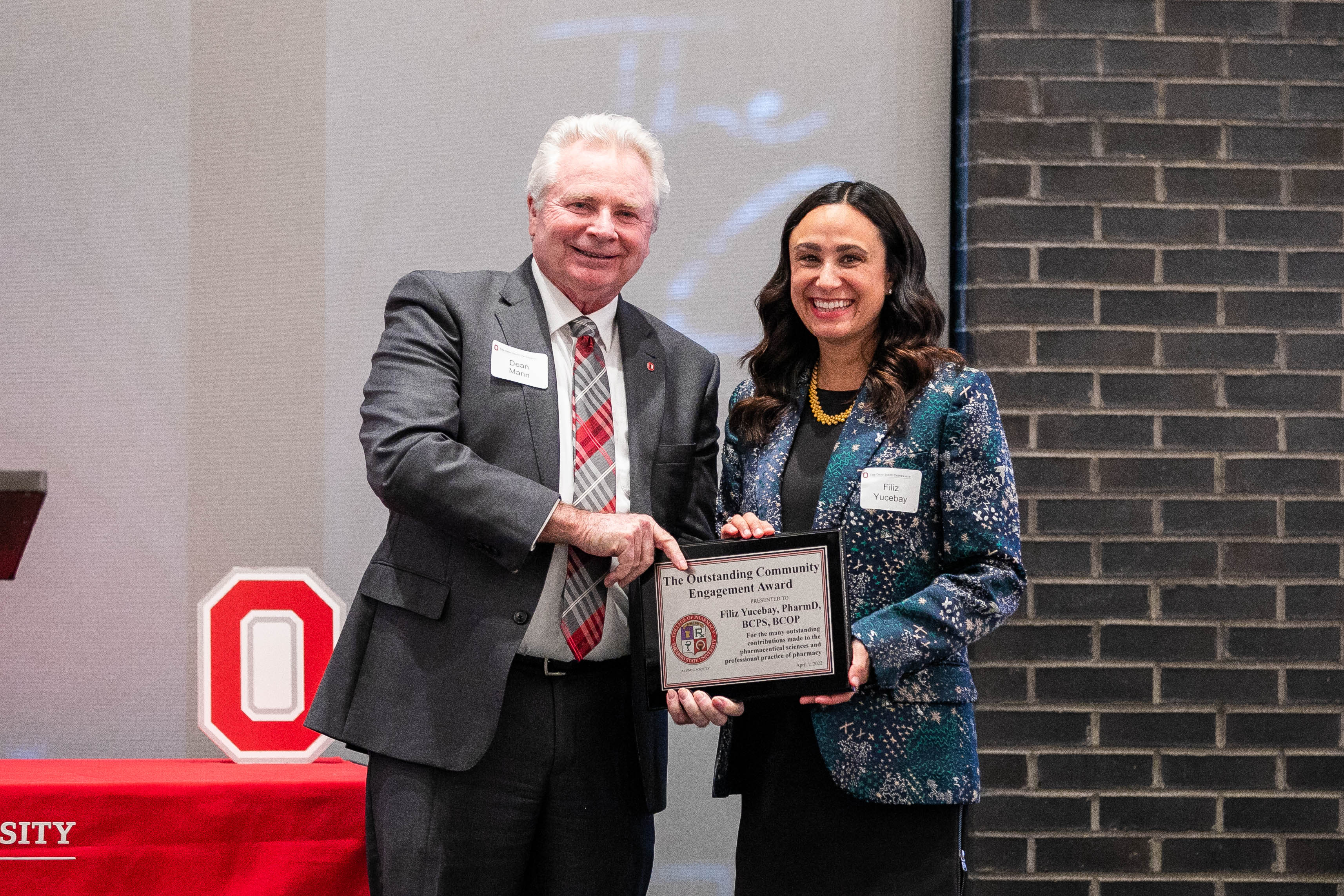 Dr. Yucebay works at Huron Consulting Group where she supports health-system administrators in their effort to drive new pharmacy initiatives. Previously, Dr. Yucebay was a hematology/oncology clinical specialist for Ohio State's Comprehensive Cancer Center – James Cancer Hospital and Solove Research Institute. She co-teaches an elective course at the College of Pharmacy; was the pharmacy director for a Medical Mission Brigade, PODEMOS, at the Ohio State College of Medicine; and helped change Ohio pharmacy law to allow for patients to donate their unused cancer medicines to drug repository programs for other patients to use.
Dr. Yucebay recently moved back to Columbus after traveling the country, residing in Chicago, New York and San Francisco. She has two cats, Jet and Binny, and is married to a pharmacist, Jeff Rabe. They are expecting a new addition to the family in July and are looking forward to laying down roots closer to family and friends.
Maryann Z. Kennedy, BSPharm, was awarded The Lifetime Achievement Award.
This award was established for outstanding lifelong accomplishments in pharmacy, pharmaceutical sciences or public service. The impact of the candidate's stellar contributions to the professional, scientific and/or educational communities is judged by biographical data, including published work and previous honors. Recipients must have completed a degree or post-graduate training at the College of Pharmacy. This award is not given in any regular, repeating time period, but only when truly outstanding candidates are identified.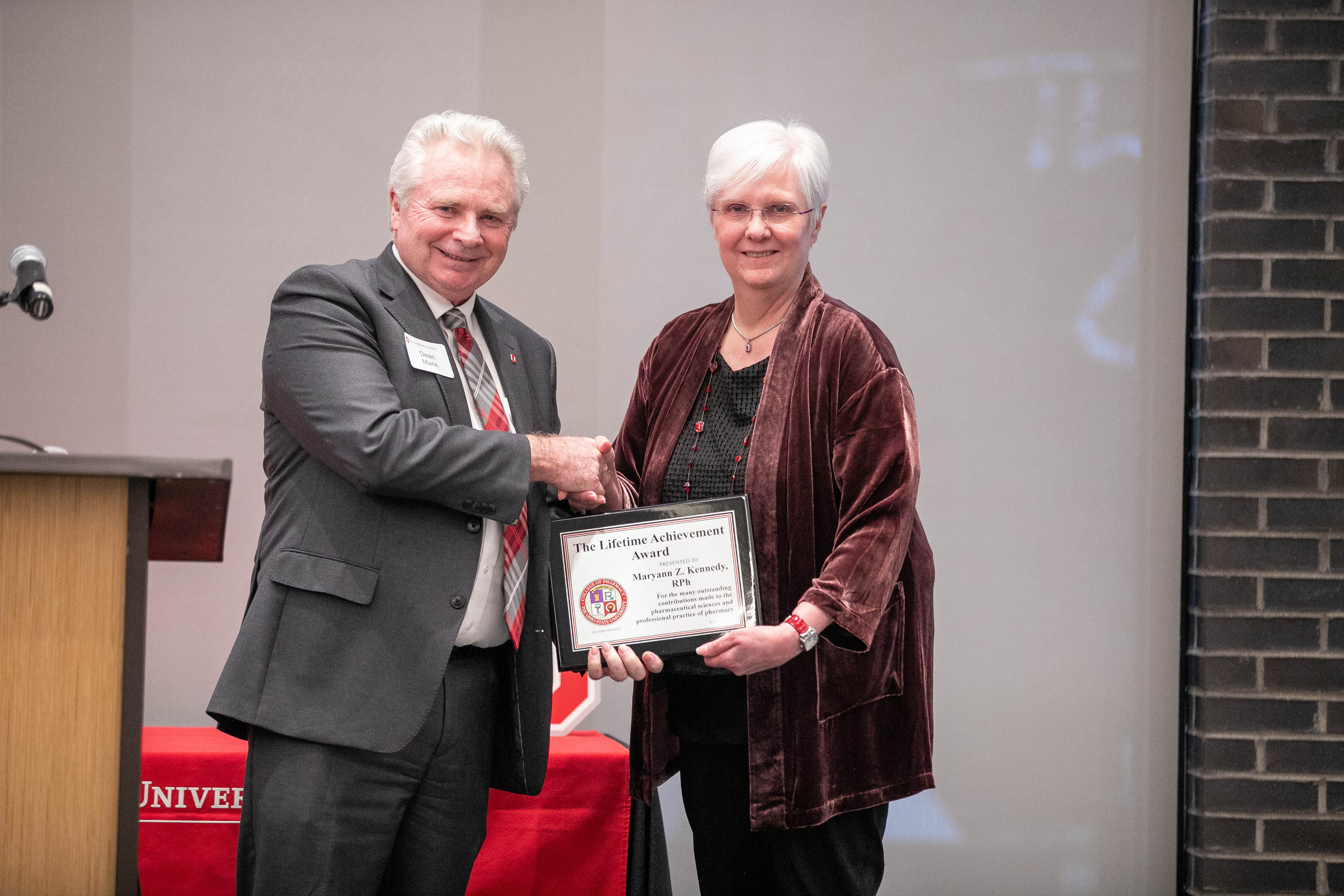 Maryann Z. Kennedy retired in December 2012 as director of the Cardiovascular/ Metabolism Medical Science Liaison team within Medical Affairs for Genentech, a member of the Roche Group. She earned her bachelor's degree in pharmacy from Ohio State in 1978 and joined Roche Laboratories Inc. immediately following her graduation.
Over her 34-year career with Roche, Kennedy has received numerous Roche awards at every position she held. In 1982, she was elected as the president of the Greater Cleveland Academy of Pharmacy, now the Northern Ohio Academy of Pharmacy. At that time, she was the first woman and the youngest president in the organization's 102-year history.
Currently, Kennedy serves as a director on The Ohio State University Foundation Board. She also serves as a member of the College of Pharmacy Alumni Governing Board and was a 1998 recipient of the Distinguished Alumni Award. She previously served as a member of the Dean's Corporate Council. A cancer survivor, Kennedy currently sits on the University Hospitals Seidman Cancer Leadership Council. She is also the chair of the City of Solon Civil Service Commission. Kennedy has been happily married for 41 years to Larry Kennedy.