October 12, 2022
News Story Content
College of Pharmacy Student Spotlight: Abiola Adesoye, Doctor of Pharmacy Class of 2024
The Ohio State University College of Pharmacy is shining a spotlight on students throughout the year. In honor of Women Pharmacist Day Oct. 12, 2022, we're featuring Abiola Adesoye, a third-year Doctor of Pharmacy student from Chicago, IL.
Adesoye is the founder and president of the Ohio State College of Pharmacy's Black Women in Pharmacy (BWIP) student organization, which helps to foster diversity, equity and inclusion in the pharmacy field while supporting Black women with additional resources to succeed in school.
Read more about Adesoye's experience as a student and BWIP below:
Why did you decide to pursue pharmacy?
When I first started this journey, I knew mostly about retail pharmacy and was excited to have an impact on my future patients' lives by working with them to achieve the best health outcomes. Since I started, I have seen that there are a lot more exciting options in the career.
I think that it is important to teach people that pharmacists do a lot more than dispense drugs. As medication experts, we have the opportunity to counsel patients on so many different aspects, including relevant vaccines and finding the most appropriate therapy for them. Pharmacists serve as a readily accessible resource to the communities they serve. You don't always have to go directly to your physician to get answers.
What are your goals after graduation?
I have worked in the retail setting for a while but this past year I have shifted my focus toward managed care pharmacy. While working in retail pharmacy, I got to see firsthand how insurance companies impact how people can access their medications.
In the field of managed care, even though I won't be working directly with patients, I like that I get to apply my clinical knowledge to help a larger group of patients and make an impact on their lives. I will be using my knowledge to determine what treatment options are covered based on population needs while learning about developing medications and how they impact treatment. I guess what I really like is knowing I will have a widespread effect on patient outcomes.
What extracurriculars are you involved in? 
I am the founder and president of Black Women in Pharmacy (BWIP). I am also the vice president of the symposium for Academic Managed Care Pharmacies (AMCP) and the Ohio State College of Pharmacy representative for the Interprofessional Curriculum (IPC) African American Interprofessional Affinity Group.
Can you tell me more about BWIP?
BWIP is a student organization that I created last year and finally got active status this past spring. It's exciting that we have entered its first official full year.
I started the organization because I have a passion for diversity, equity and inclusion, especially in health care. Many of us recognize that there are health care disparities and inequities that primarily affect people of color, especially African Americans. Being a double minority—being Black and a woman—I recognize the need to have diversity within health care.
I also wanted to build a space within the College of Pharmacy where Black women pursuing pharmacy feel supported and are given resources that aid in their journey through the college and get them into their first pharmacy jobs or residencies.
We submerge ourselves in the community by directly engaging with high school and middle school students and inspiring them to think about pharmacy while also engaging in community programs to aid in patient access to health care.
How have these experiences enriched your time at Ohio State?
My extracurriculars make my time here so much easier as I am working through the doctoral program. The program can be challenging but my extracurriculars allow for a pause where I can network and meet with so many amazing people.
They've also given me the opportunity to build my leadership skills as well as my critical thinking skills. While I use my clinical knowledge at work, I can use my soft skills everywhere else and not just in pharmacy practice. It's shaping me into a well-rounded health care professional.
What's your advice for incoming Doctor of Pharmacy students?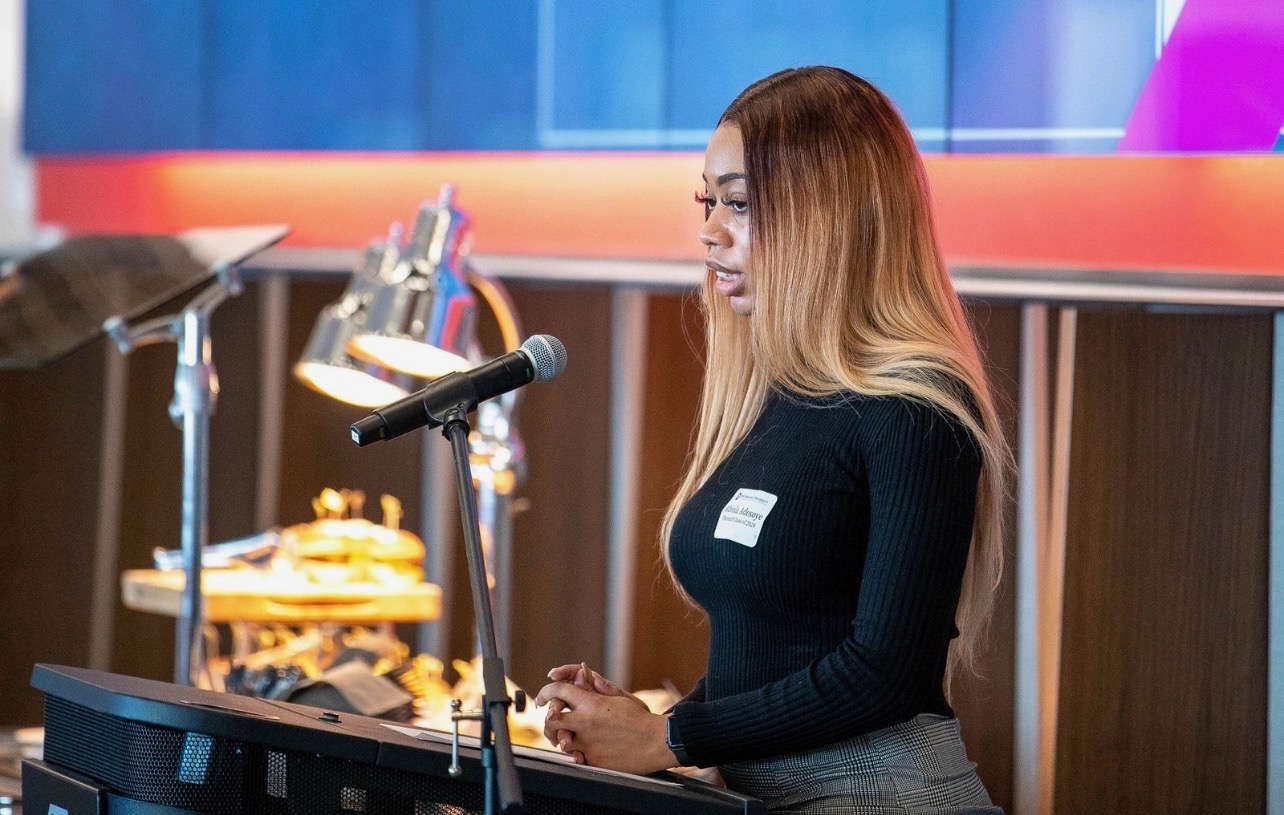 I think the first thing is to keep an open mind to all the career paths within pharmacy. There's so much out there.
The second thing – and what I would argue is most important – is to remain grounded in your core values as a person. I think that as we pharmacy students expand our clinical knowledge, we start to gain more arrogance, which can be dangerous because we lose empathy.
It's super important that when you are in pharmacy school and receiving medical training, you know that you are here because you want to help people. Keep that in mind as you progress through your program. You should be doing everything in your career to improve patient outcomes. Listening to your patients and having empathy for them can determine their health outcomes.