March 31, 2021
News Story Content
By Sidney Rider
Faria Munir, PharmD '19, BSPS '15, continues to thrive in her residency program at the University of Kansas Health System despite the twists and turns of the pandemic – a situation she feels prepared for thanks to her time at The Ohio State University's College of Pharmacy.
Why Dr. Munir chose Ohio State
As a first-generation American, graduating college in the United States was a huge goal for her. After learning more about Ohio State, she knew this is where she belonged and enrolled in the College of Pharmacy's Early Assurance Program (EAP).
"The program was a great foundation and steppingstone to learn more about pharmacy and to cultivate a sense of community," Dr. Munir said. "Ohio State is obviously known for football, but we are also nationally known for our strong-knit community. We have a huge network; our world-renowned faculty and staff are everywhere."
Quote

"There was so much unknown and things changed often. I think my education at Ohio State helped me to tackle these administrative projects."
Finding her niche and preparing for the road ahead
Dr. Munir found her own community at Ohio State through exploring her interests with other students. She found her way through cultural organizations, cooking classes and taking advantage of things happening around Columbus.
"Being able to find my niche at Ohio State with it being a massive institution was important for me," Dr. Munir said. "Exploring those interests with people that I met from both pharmacy groups and otherwise gave me a path to success for pharmacy school."
Once she started the Doctor of Pharmacy program, she took full advantage of the opportunities in front of her. Having exposure to the many areas of pharmaceutical sciences led her to seize research opportunities with Lane Wallace, PhD, faculty emeritus and her trusted mentor that supported her throughout her studies.
Settling into a new career while dealing with a pandemic
Dr. Munir found an opportunity with the University of Kansas Health System's residency program after she graduated from Ohio State. Her first year involved clinically based work where she worked in internal medicine, the intensive care unit (ICU) and psychiatrics.
Before she completed the first year of her residency, the COVID-19 pandemic hit and presented many challenges.
"No one expected the pandemic," Dr. Munir said. "It's obviously been hard, but I think there's a lot of lessons learned. Around March last year, we had to think quickly and make changes to adapt."
Dr. Munir stepped into various administrative roles for the second year of her residency, where she worked with different directors within the pharmacy department. In these roles, she helped the team think creatively to keep patients and staff safe, prevent burn out and build resilience. She even helped her team create a new communication strategy to update staff on drug shortages, new COVID-19 treatments and general hospital changes.
"There was so much unknown and things changed often," Munir said. "I think my education at Ohio State helped me to tackle these administrative projects."
Reflecting on her education
Dr. Munir attributes her clinical rotation success to her education at the College of Pharmacy but says her time at Ohio State wasn't just a transactional relationship.
"It's not just going to class and then leaving," Dr. Munir said. "You truly get an immersive experience in everything that you do. The coursework sets you up to be a great clinician with the leadership and research opportunities to help you go further."
She feels the soft skills she learned helped her thrive during her second year as a resident.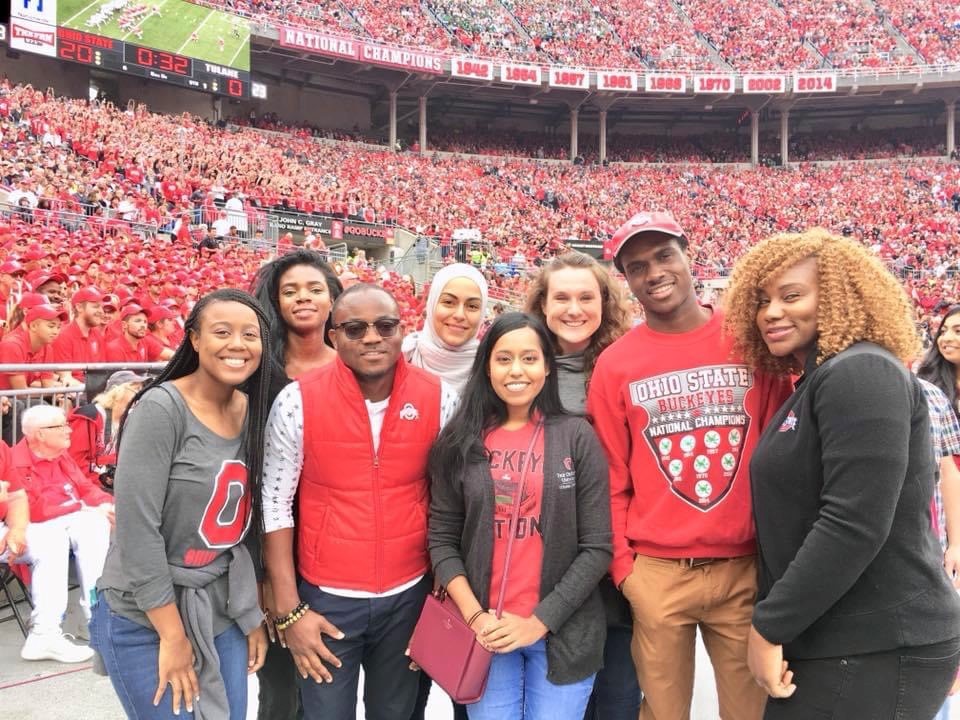 "It gives you another aspect that you don't really think about needing as a pharmacist," Dr. Munir said. "A huge impact in my career thus far is being able to not only be a great clinician but also to adapt in any situation, know how to communicate properly to patients and peers, and to ensure that every step of the way I am showcasing the best version of myself."
Moving forward
Dr. Munir is currently applying for entry-level management positions where she would either oversee a set of clinical pharmacy teams or manage the operations essential to pharmacy.
The pandemic also gave Dr. Munir an interest in exploring pharmaceutical supply chain management – an area of business where workers stock companies with much-needed supplies, such as syringes and medications like COVID-19 treatments.
"I never knew what supply chain was before my residency because they always worked behind the scenes," Dr. Munir said. "But they played a huge role in ensuring our team had the supplies and medications needed to be successful during the pandemic."